This is a brief report by DoctorX and his Chemical Brothers and Sisters covering available information about risks of N Ethyl-Pentylone, a novel and dangerous NPS recently detected as adulterant of MDMA pills and powders.
Last month our Drug Checking Service detected two different pills offered as MDMA but contained the cathinone derivative N-Ethyl-Pentylone instead. Both pills were detected in Balearic Islands: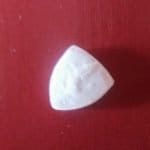 Pills are shield-shaped, divisible x2, with a horse logo (Ferrari). Colour is white in one case, yellow in the other. Recently, N-Ethyl-Pentylone has been also detected in Balearic Islands sold as MDMA powder. In this brief report we present:
1.- Avaible information about N-Ethyl-Pentylone
N-Ethyl-Pentylone (ephylone, bk-EBDP) is a substituted cathinone and stimulant drug. It is chemically related to methylone and butylone.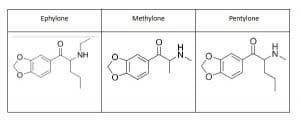 First reports about availability and personal experiences of psychonauts with N-Ethyl-Pentylone appear in forums as bluelight.org or drugs-forum.com by mid-2015. Users refer potent stimulant effects with low dosages.. There are no available animal or human experiments using N-Ethyl Pentylone. Both in Europe and US, its presence in recreational market, was first reported in 2016 (
1
,
2
). The same year, Slovenia communicated the first death linked to this substance(
2
). In the last two years, there have been several reports of severe toxicity and death related to N-Ethyl Pentylone in South Africa (
3
), United States (
4
,
5
), United Kingdom (
6
) and New Zealand (
7
). Mass-casualty or high toxicity incidents related with unintended use of N-Ethyl Pentylone offered as MDMA are common in these reports. The largest serie of cases involves 26 severe toxicity or death cases (
5
), collected in a 1 year period in United States. Nevertheless, causes of death included not only intoxication with N-Ethyl-Pentylone, but also suicide, polyintoxications, gunshot wounds, and traffic accidents. In any case, harm potential of this substance appears to be higher than other common recreational drugs. One possible cause for this is the high potency per weight of BK-EBDP. Similarly to MDPV, the fact that a normal dose of the substance is significantly lower than the substance it is being sold as (BK-EBDP sold as MDMA), it is possible that users are ingesting high doses of BK-EBDP thinking it is MDMA, and as a consequence experiencing severe adverse effects. N-Ethyl-Pentylone reaction to Marquis test is a yellow color. This allows to distinguish it from MDMA or other substances. Interpretation is limited in the case of a sample containing a mixture of different substances.
2.- Presence in Drug Market and trends of N-Ethyl-Pentylone
2.1.- Internacional drug checking service (EC-INTERNATIONAL)
Our database shows these results for N-Ethyl-Pentylone, in the period June 2014- Feb 2018. 4 samples (3 in 2016, 1 in 2017) have been submitted for drug checking as "N Ethyl-Pentylone". In all 4 (100%) this substance was detected with no other adulterants. All samples came in powder/crystal form and were probably purchased as NPS. In 16 additional samples a test result of N-Ethyl-Pentylone was found, although were acquired as other substance (or had an unknown composition, as refered by the user). Data available are shown in Figures 1,2 and Table 1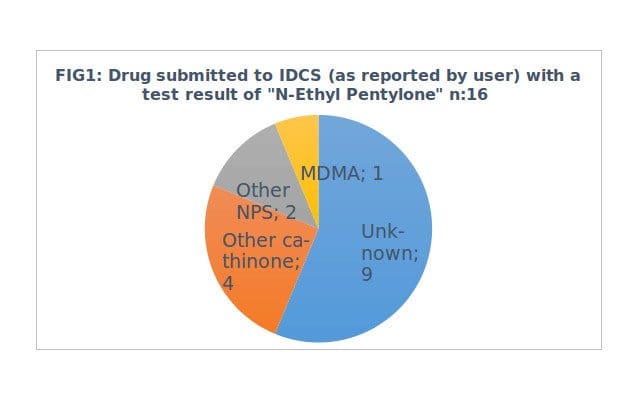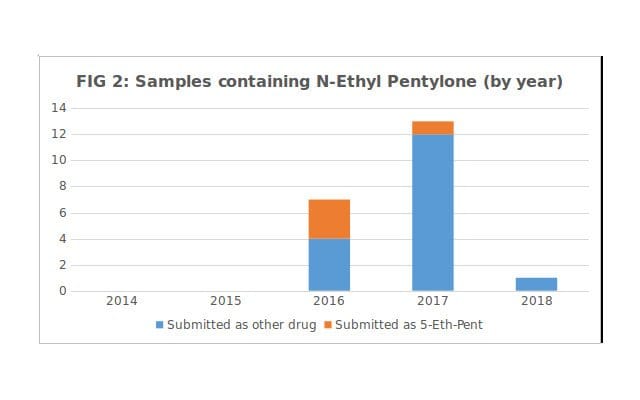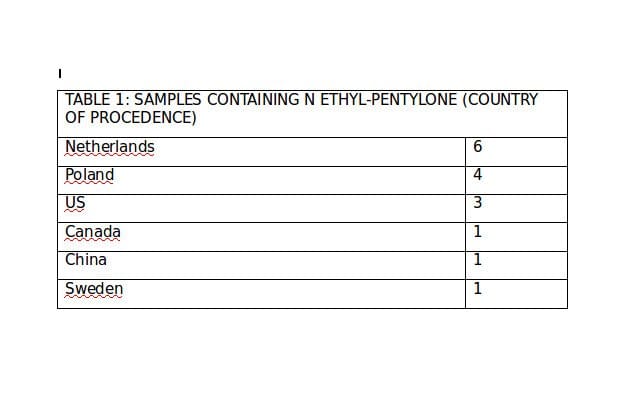 We have not detected any mixtures of N-Ethyl Pentylone with other substances, and no other pill containing this drug.
2.2.- Others sources
Available data from
Ecstasydata.org
(US)  refer 32 samples containing N-Ethyl-Pentylone (March 2016-Apr 2018). Most of them are presented in powder/crystal/dust and were sold as MDMA. There are 6 pills that contained N-Ethyl-Pentylone, generally in combination with other substances. All have been detected in United States.

We have found a pill with shape and logo very similar to the one tested by us. This was found in Vienna (Austria) and tested by
Check-it
in April 2017, but revealed MDMA as unique active principle.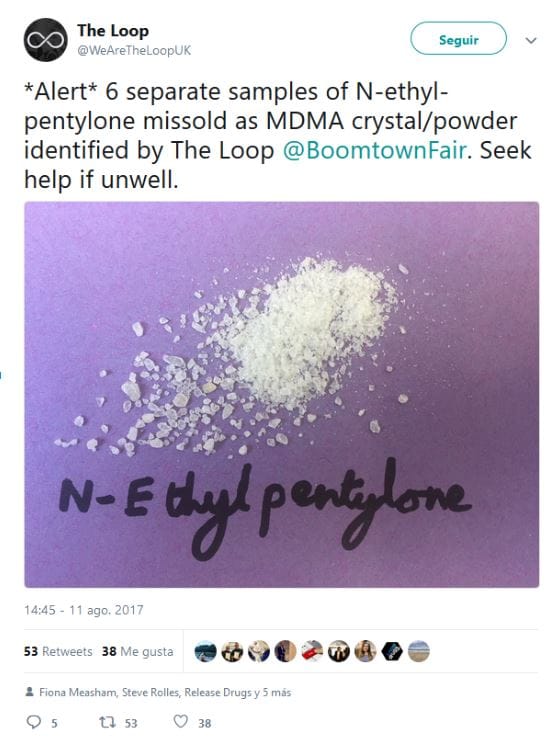 Information provided by
The Loop
 show that that N-ethyl Pentylone is being sold as MDMA, as it was present in 6 samples in which the user expected MDMA. We have not been able to find any pill with this characteristics in the 6 most popular cryptomarkets from Deep Web.
3.- Conclusions:
It is noticeable the short period between first communications and detection on N-Ethyl-Pentylone in the market and the appearance of series of severe intoxications. Unintended use of this substance mislabelled as MDMA is the most probable factor involved.
In order to offer a "harm reduction advice" about a drug, it is mandatory to know its harms from a scientific point of view. In case of N Ethyl-Pentylone there is no information available, so the best advice is to refrain its use.
The unique answer to NPS (New Psychoactive Substances) has been fiscalizing substances. The prohibition of a molecule is immediately followed by the appearance in the market of a different derivative, in general more dangerous than the previous one. There are many examples of this situation and Drug Policy makers should evaluate the lack of efficacy and counter-effects of this "cat and mouse" game.
Available data has been collected by Harm Reduction Programmes for recreational users. They are playing a key role, not only in monitoring the market, but also in advise users and warn of potential high toxic substances, as in this case. This role has to be recognized, improved and properly financed by Public Authorities.
You can follow us in
Reddit
You can support our work with a
donation.
References: 1.
U.S. Department of Justice Drug Enforcement Administration. (2016) National Forensic Laboratory Identification System 2016 Annual Report.
2.
European Monitoring Centre for Drugs and Drug Addiction. (2016) EMCDDA. Europol 2016 Annual Report on the implementation of Council Decision 2005/387/JHA.
3.
No antidote yet for killer drug's special ingredient (News24.c0m) Access 22/5/18
4.
Thirakul P, Hair L, Bergen K, Pearson J; Clinical Presentation, Autopsy Results and Toxicology Findings in an Acute N-Ethylpentylone Fatality, Journal of Analytical Toxicology 2017, 41 342-6
5. 
Alex J Krotulski, Donna M Papsun, Bruno S De Martinis, Amanda L A Mohr, Barry K Logan; N-Ethyl Pentylone (Ephylone) Intoxications: Quantitative Confirmation and Metabolite Identification in Authentic Human Biological Specimens, Journal of Analytical Toxicology, https://doi.org/10.1093/jat/bky025
6.
http://www.abc.net.au/triplej/programs/hack/how-pill-testing-works-in-the-united-kingdom/9146380
7.
http://www.newshub.co.nz/home/health/2018/03/police-concerned-by-emergence-of-new-drug-n-ethylpentylone-sold-as-ecstasy.html