As we previously announced, in addition to the official agenda, a series of parallel events have been held on specific themes. Energy Control (ABD-Spain) along with Acción Técnica Social (Colombia), Reverdeser Colectivo (Mexico), Trimbos Institute (Holland), Transform Drug Policy (UK) and support from the Austrian and Spanish governments, we organized the parallel event "Drug checking services: improving public health and safety" in order to publicize and promote the implementation of this type of services.
You can access here to a brief summary of the interventions. Some pictures of the event are in our Facebook page.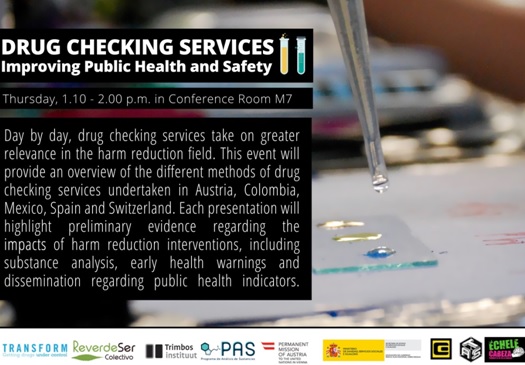 For Energy Control and the other organizations involved, this event has provided a valuable opportunity to defend the usefulness of the Drug Checking Services in the United Nations and to representatives of several countries. Through the various presentations, the Drug Checking Services have proven to be a valid and necessary tool to reduce risks related to recreational drug use.